4 Deserts+ Ultra-Marathon Series 2022
The 4 Deserts Ultra-Marathon Series is a 1.000km multi-stage footrace across the Namib, Gobi, and Atacama desert as well as Antarctica in one year. The 4 Deserts+ adds the annual roving race (Caucasus), making it five ultra-marathons or 1.250km in one year. Each stage is six days in length and covers 250km self-sustained, with runners carrying gear and food as the organization only provides water and medical assistance. 
TIME Magazine ranks the challenge in its Top Ten Endurance competitions alongside other athletic feats such as the Tour de France and Vendee Globe Yacht Race. Since inception in 2008, 78 racers have finished the full series in one year (Desert Grand Slam) and eight have finished the extended series (Desert Grand Slam Plus).
Team

Elise Zender
Elise started We Can Run because she deeply believes that women's higher education is a powerful driver to achieve a more sustainable world. After gathering experience in Investment Banking, NGOs and the United Nations, she moved to Munich where she currently works in the Private Equity Investment Team at Allianz Capital Partners. Attempting the 4 Deserts Series+ / Desert Grand Slam Plus, Elise hopes to bring more funding and visibility to the young women looking to study in Sierra Leone. So far, she has placed in the Top 5-10 women and won her age category in every race (Namib, Caucasus, Atacama).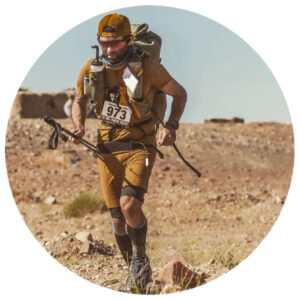 Alex Davydov
Alex is a Sports Editor at the Frankfurter Allgemeine Zeitung in Frankfurt, has raced several ultra-marathons, hiked all over the world and has known L'appel for more than seven years through his travels to Sierra Leone. He helped to set up We Can Run and is responsible for editing the podcast and cutting short videos for Instagram. Alex is also participating in Stage 3 (Atacama) and 5 (Gobi) of the 4 Deserts+ Series. 

Josh Tebeau
After spending a year working with children in Senegal and graduating from Princeton University, Josh moved to Utah to train in the mountains and work in the Global Markets Division of Goldman Sachs. Josh joined We Can Run after sharing a tent with Elise during Stage 2 in the Georgian Caucasus and is also joining Stages 3 (Atacama) and 5 (Gobi) of the 4 Deserts+ Series. During his time in Senegal, Josh witnessed first-hand the relevance of education as a powerful catalyst for a more resilient future. At We Can Run, Josh is responsible for fundraising activities in the US. 

Iris Leschirnig-Reichel
Iris works in Business Development at Amazon Web Services in Munich and is passionate about creative marketing and all things digital. She studied Law and Management at the University of Exeter and St. Andrews and facilitates the Instagram channel at We Can Run.